Our Office's Traffic Accident Response-Three Strengths?
Bargaining power over insurance companies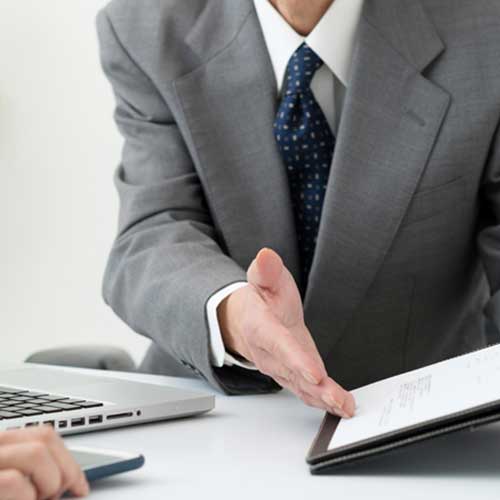 The traffic accident response insurance company handles a large number of accidents every day, so the company has a good bargaining power in addition to being familiar with the situation.
On the other hand, the general public does not encounter accidents on a daily basis, so you don't know how to negotiate when you become a victim.
For this reason, it is inevitable that the insurer loses in negotiations.
But when you consult us, you can mobilize a wide range of legal expertise, which makes you more bargaining than the insurer's staff.
As a result, the project can be arranged under favorable conditions, and anxiety and stress after the accident can be significantly reduced.
---
Smooth Acquisition of Grade of Disability Grade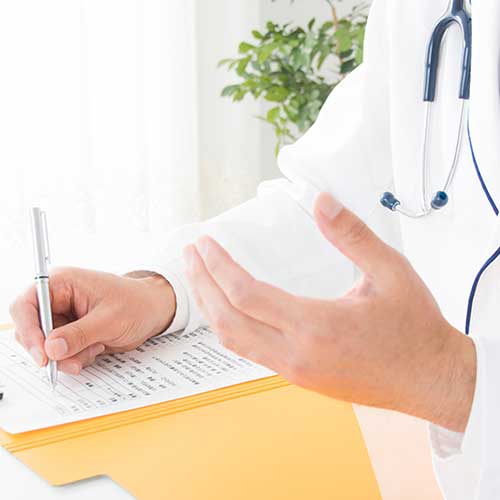 In the event of an accident that leads to sequelae, the aftereffects grade certification will be obtained.
Even one different class certification can make a big difference in compensation.
For this reason, if a traffic accident causes sequelae, the person should receive appropriate treatment and examination after the injury, and if the symptoms are fixed, the doctor should prepare a detailed medical certificate for the aftereffects.
It is important to note that although doctors are medical professionals, they often do not know much about the procedures for the aftereffects grade.
This may cause delays in the timing of the appropriate examination, leading to a one-grade drop.
If you contact our office, which has a wealth of experience in traffic accidents, you will be able to obtain a smooth and appropriate aftereffects grade certification by checking the contents of the aftereffects medical certificate by a lawyer who is familiar with these procedures and has medical knowledge.
---
High-level support system that shares the know-how of all branches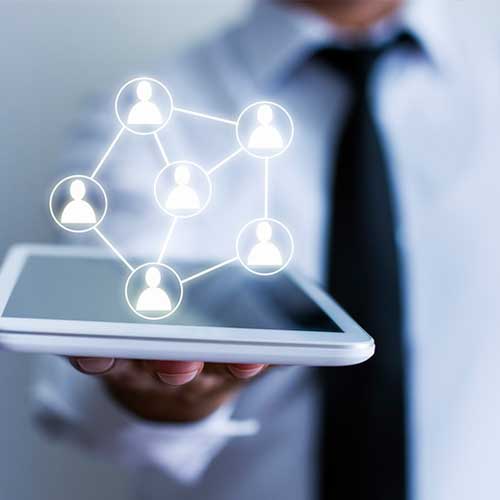 High-level support system Legal Profession Corporation has branches in each area (Aomori, Mito, Utsunomiya, Nagano, and Matsuyama) centered on the Tokyo Headquarters.
The know-how and details of all branches that have been cultivated in response to traffic accidents are always shared in real time, enabling us to respond swiftly to complex traffic accidents at a high level even when they arise.
This will minimize the burden on the traffic accident victims and their families and allow them to concentrate on treatment with peace of mind.
We have a system in place to provide total support to clients until they negotiate to prevent the discontinuation of treatment costs, provide grade support for disability, negotiate settlements with insurance companies and claim damages, and settle lawsuits.
---
If the lawyer does not negotiate, will the amount of compensation not be increased?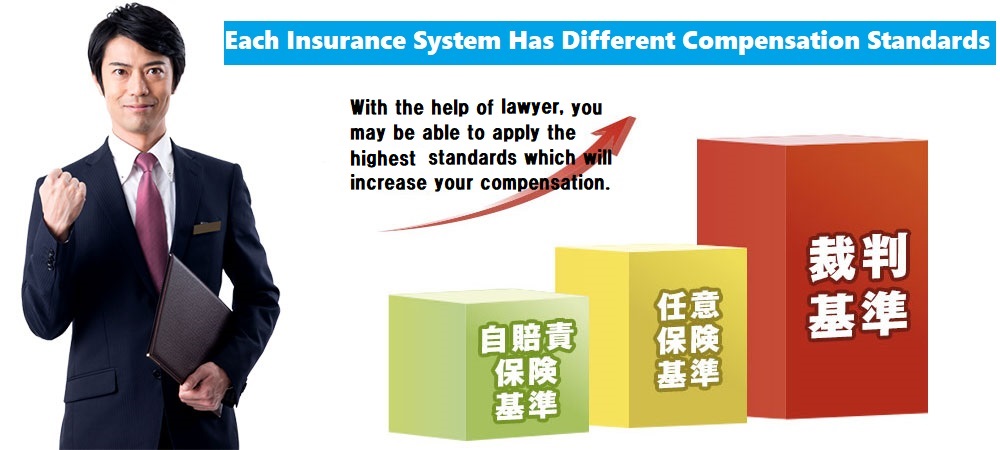 There are many people who try to negotiate with an insurance company on their own with an awareness of the costs of attorneys.
But lawyers can offer Court standards-conscious compensation because there is a lot of chance that they will go through the process of actually challenging the case.
Therefore, it is very difficult for an insurance company to increase the amount of compensation offered by the insurance company even if the general public, who does not have knowledge of legal procedures, negotiates directly with the insurance company.
Three compensation standards for traffic accidents
Automobile liability insurance standards
Automobile liability insurance is a compulsory insurance policy that requires drivers to purchase.
Automobile liability insurance standards compensation is based on the amount paid by the automobile liability insurance and is set at the lowest level as imagined. Many insurers try to talk about the Automobile liability insurance standards's compensation as a settlement.
If you settle the settlement without knowing anything about the insurance company, you will be able to reduce the amount of compensation that you would otherwise receive.
---
Voluntary insurance standards
Voluntary insurance standards sets the amount of compensation based on its own payment standards.
As an image, it would be good to think that the amount is increased somewhat by the amount approaching the Automobile liability insurance standards.
In other words, even if an insurer has offered to pay damages at the upper limit of its Voluntary insurance standards, it is still generally lower than the amount of damages that can be awarded in court.
Therefore, even in Voluntary insurance standards cases, settlement should not be easily reached.
---
Court standards
Court standards is based on the expected amount of the trial.
This is an objective amount of compensation that can be derived by a court decision, so it is considered to be the most reasonable and fair standard amount.
Incidentally, the amount of this Court standards is not binding on the courts, and there are cases in which the amount of compensation is increased.
---
Proposed out-of-court settlements of insurers are usually made in Automobile liability insurance standards or Voluntary insurance standards
The insurance company is trying to reduce the payment of damages to as much as possible.
For this reason, we first present the amount to be paid based on the automobile liability insurance standard, and if it is difficult to do so, we will present the compensation at the Voluntary insurance standards and try to summarize the discussion.
However, in some cases, a trial may result in more than twice as much compensation as the Voluntary insurance standards.
So, simply, can the general public say, "Then we will fight in court? Unfortunately, this is not very effective?
Because if you are really ready to sue, you should have negotiated on your behalf.
If the lawyer negotiates directly, it is inevitable to imagine the development of a trial without settlement.
As a result, the person in charge of the insurance company has to adjust to settle the settlement by raising the payment amount before it is brought to court.
As a result, there is a possibility that even without a trial, it will be possible to realize the payment of compensation that is in fact equivalent to the Court standards by negotiation alone.
---
Benefits of asking lawyers for traffic accidents
Increase in the amount of compensation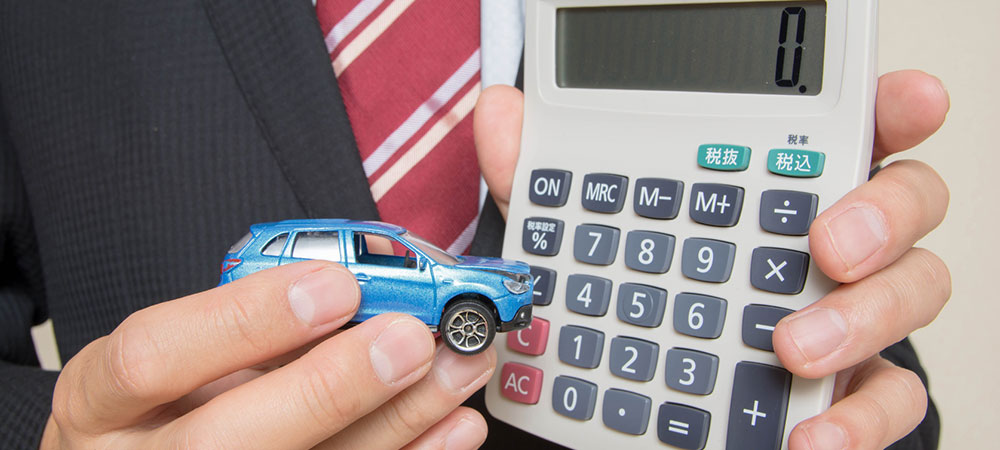 The amount of indemnity offered by the insurer in the Voluntary insurance standards can be said to have been slightly added to the Automobile liability insurance standards.
If you ask a lawyer, you will be able to negotiate with a "Court standards" that is more than twice the amount of compensation offered by the insurer, making it more likely that you will be able to withdraw a large amount of compensation.
Strong bargaining power with insurance companies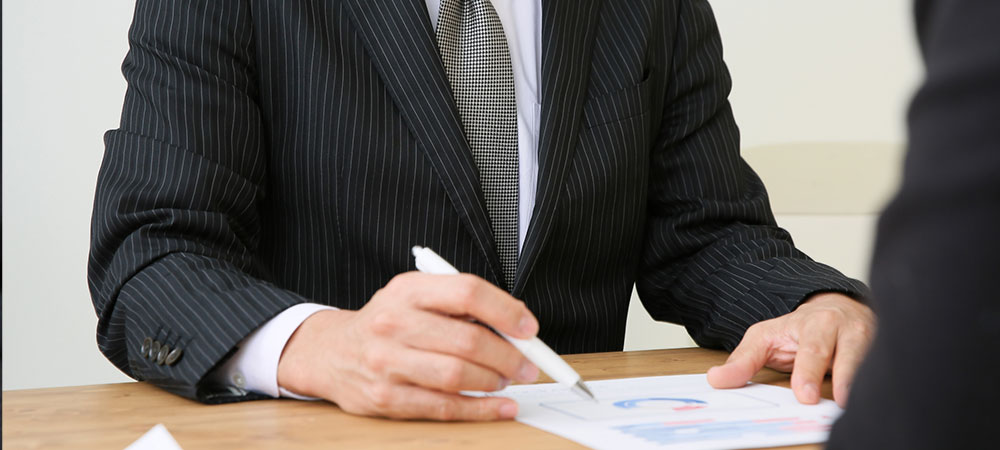 Please think it is very difficult for the public to negotiate with the person in charge at the insurance company to obtain favorable conditions.
Lawyers will be the agent of the Client and will be in charge of negotiations on behalf of the Client.
You can feel relieved by avoiding stress on the response of the insurance company.
Negotiations to prevent the discontinuation of treatment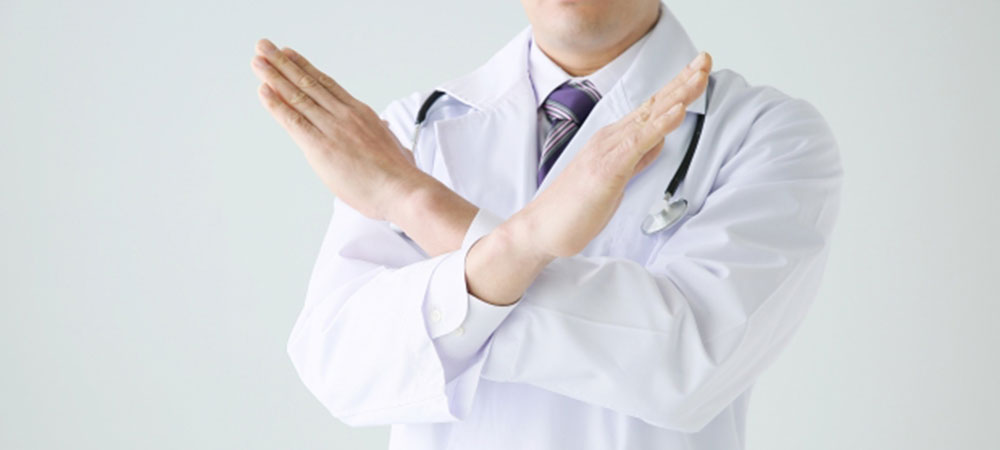 The payment period for medical treatment and leave compensation to help victims of a traffic accident is usually terminated within three to six months.
Even with such an insurance company setting, lawyers can negotiate to prevent the termination.
Acquisition of appropriate aftereffects grade certification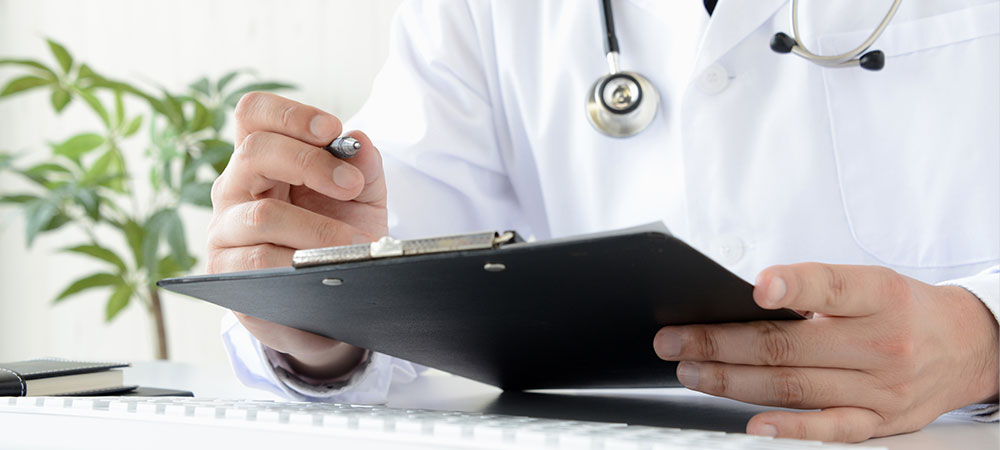 In order to obtain an appropriate aftereffects grade certification, not only medical knowledge but also strict judgment about the accident and complicated procedural work must be done.
Supported by attorneys familiar with the procedures, you can smoothly obtain an appropriate aftereffects grade.
---
If you have a Attorneys' Fees Special Clause, you will be free of attorneys' fees!
Please confirm the details of the insurance you have taken out.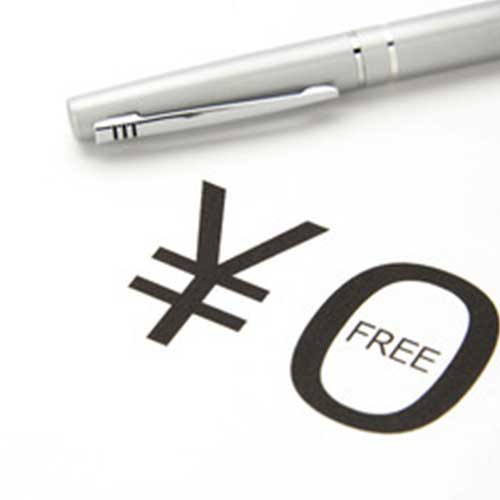 There are cases where Attorneys' Fees Special Clause is included in the automobile insurance that you are taking out Attorneys' Fees Special Clause.
If you have a Attorneys' Fees Special Clause, you may have your attorney's fees followed up as insurance in the event of a claim for damages, such as a traffic accident.
Even if you need to pay attorneys' fees, you are guaranteed up to 3 million yen, so you often do not have to pay attorneys' fees and can effectively claim damages.
If you have checked the coverage that you are taking on and you have a Attorneys' Fees Special Clause, you should actively use it.
In some cases, the Attorneys' Fees Special Clause may be applied to the automobile insurance in which your family is enrolled. If applicable, please consult with the insurance company, etc. in which you are enrolled.
In addition to automobile insurance, there may also be Attorneys' Fees Special Clause in fire and non-life insurance.
---
Improving the cost system to prevent victims from losing money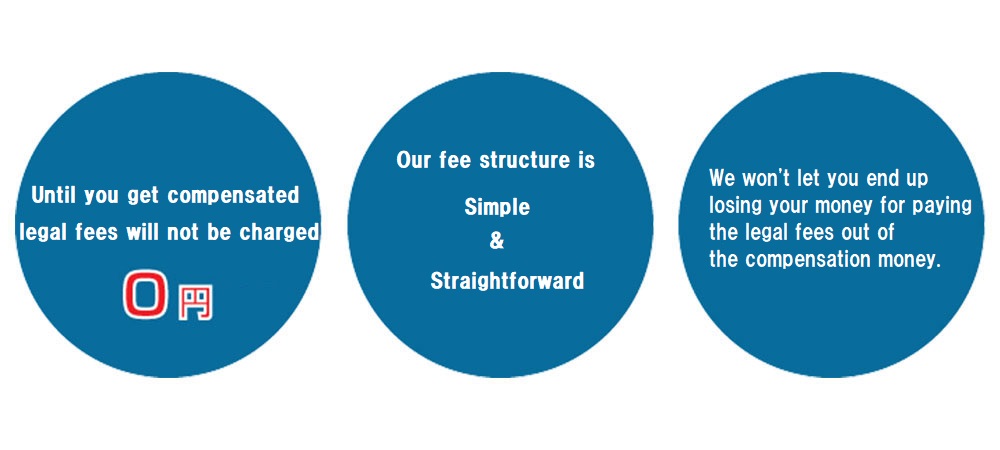 We have established a clear fee structure that allows us to pay a consultation fee of 0 yen and a start fee of 0 yen, and to pay a compensation fee of 200,000 yen plus 10% of the amount collected.
In addition, since the compensation is paid in full in arrears, the company is entitled to pay the compensation after obtaining the insurance or compensation.
With respect to the final compensation, if you pay an attorney's fee from there, adjust it so that the amount remaining on hand will not be lower than the settlement price originally offered by the insurance company.
In other words, in the event that the amount of compensation that can be secured falls below the settlement price offered by the insurance company if the lawyer's fees are paid, the lawyer's fees for the shortage will not be paid.
Accordingly, please feel confident that your request will not cause any loss to our office.
The attorneys' fees for Attorneys' Fees Special Clause use are based on the former JFBA Compensation Standards.
---
For people living in the vicinity of Aomori City and suffering from traffic accidents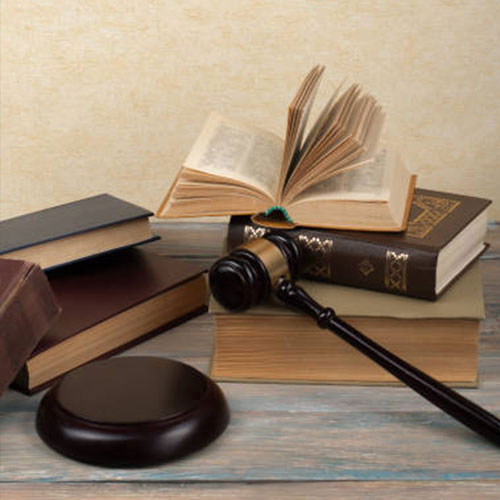 The Legal Profession Corporation for Traffic Accidents has a large number of lawyers with proven track records in traffic accidents, providing prompt and full support to urgent clients.
We have established a system that enables all branches to share information on the contents and results of each project, so we always maintain the best level of support.
Please feel free to consult with us first, as there is no charge for consulting or starting money.